Activities
Sri Nakhon Khuean Khan Park, this large fertile park with numerous kinds of plants is home to various kinds of animals, for example, birds, butterflies, squirrels, bats, etc. Widely known as the "Lung of the city", the park is a wonderful place for recreation and nature learning.
Nature studies
Bird watching
Butterfly and insect watching
Plant observation
Exercise and recreation
Cycling
Jogging
Relaxing around the pond
Bird Watching
Numerous bird watchers, both amateur and professional, visit this park all year round. There is a 7-meter high bird watching tower for observing birds and viewing the landscape.
Resident birds are, for example, Indian Roller, White-throated Kingfisher, Coppersmith Barbet, Rufous Woodpecker, Stork-billed Kingfisher, Orange-breasted Green Pigeon, etc.
Migratory birds visiting during the winter season, are, for example, Peregrine Falcon, Asian Paradise-Flycatcher, Blue-winged Pitta, Ashy Drongo, etc.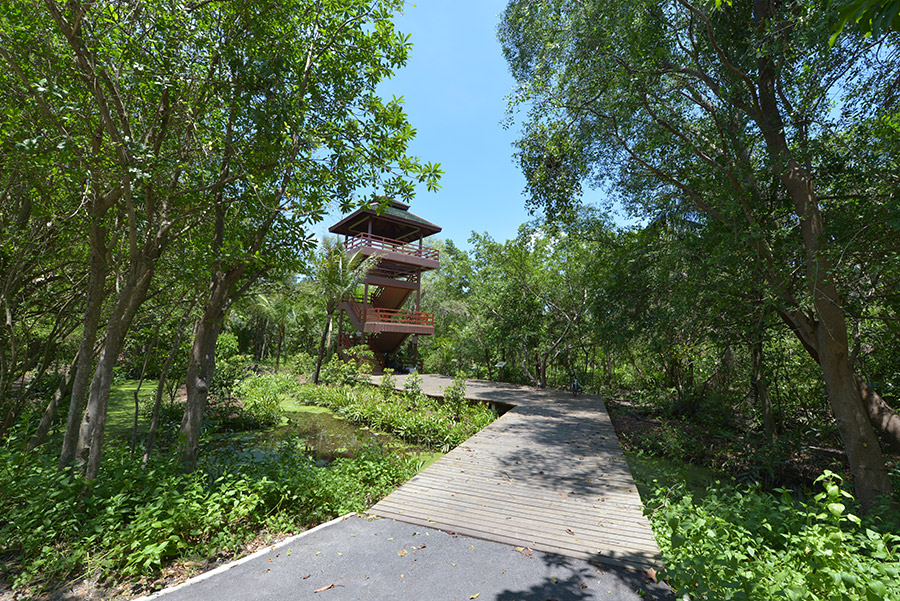 Nature Trails
The Royal Forest Department, Kasetsart University and PTT Exploration and Production Pubic Company Limited joined hands to develop two nature trails: one for bicyclists and the other for wheelchair users, as well as information displays along the two trails, and outdoor exhibits in the forest ecological restoration study and learning area, in order to make this park a recreational area for eco-learning.